As energy costs continue to escalate, there is an increasing interest in understanding the energy performance of a property.
All properties sold or let in the UK are legally obliged to have a valid EPC (there are a few exceptions to this requirement, including some listed buildings and detached buildings of less than 50sqm).
We have a team of specialist assessors who can provide a range of EPC and energy advisory services.
An Energy Performance Certificate (EPC) is intended to provide vital information on a building's energy efficiency and environmental friendliness, using categories on an A-G scale (A being the most efficient, G being the least efficient) and numerical ratings out of 100 to indicate prospective heat and power costs and levels of CO2 production. The certificate also indicates the level of improvement that can realistically be expected from having recommended changes to the property made.
A Commercial Energy Performance Certificate is required every time a non-residential dwelling is constructed, sold or rented out. A commercial EPC contains information about a property's current energy use and typical energy costs as well as a list of recommendations about how to reduce energy use and save on running costs.
EPC Articles and Projects
Whether you're a landlord or perhaps a managing agent, it's likely that you'll be aware of the rules around the new Minimum Energy Efficiency Standards (MEES) which are set to come into force on 1st April 2020.
READ MORE >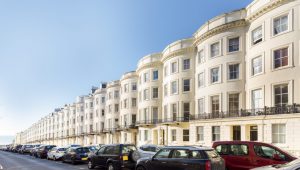 Have you ever wondered what era your home was built in? We've written a blog to help you find the answer and to discover the features that make your home part of the UK's architectural landscape.
READ MORE >
There's a lot that goes into our property marketing behind the scenes, from clever camera angles to post-production editing to remove anything from cloudy skies to errant wheelie bins. When you book an appointment with us you'll be sent guidance on how to prepare your property for our operator's arrival — anything from putting away the bins to giving the place a good clean — but if you want to get a good idea of what to expect, take a look at this blog.
READ MORE >