Be There Without Being There: Videography and Virtual Viewing
Since March 2020 the country has operated in a markedly different way to pre-coronavirus times. The global pandemic has resulted in many changes, but, with the exception of the very first few, fraught months during the original lockdown, we've continued to offer our property marketing services throughout, while of course respecting and following government guidelines to the letter to protect both our team and clients. Far from a stagnant market, house sales have boomed as people wake up to the realities of living in crowded cities, or, conversely, being far away from the amenities that they may have previously taken for granted.
We have adapted, as everyone has, and we have seen a surge in the popularity of our videography and virtual viewing services. Although it's permitted to view properties for sale during lockdown, many people are still wary of travelling and the potential risks of infection.
Our videography services can offer everything from simple walk-throughs to beautifully edited films utilising the latest video and drone technologies. Have a read about our five most popular services and let us know if you would be interested in trying videography.
Be there without being there with Virtual View
Virtual View is our standard videography service, which has become extremely popular over the past year due to restrictions in face-to-face contact resulting from the coronavirus. The standard service provides up to one minute of video, shown as a continuous walk-through of the property to showcase the layout using mobile capture with stabilisation technology. What's more, the video is adapted for social media and websites, meaning it's ready to share in whatever medium necessary. The service is not bespoke, as such, but our video operators are able to take some direction in terms of which areas to focus on or avoid. We can shoot in landscape or portrait to suit your preferences and, weather permitting, most Virtual View services include shots of the front externals and rear gardens.
UPGRADE FOR SOME EXTRA MAGIC WITH VIRTUAL VIEW PLUS
Looking for a little extra? Virtual View Plus is similar to our standard videography service, but with more time allocated for additional editing and highlighting of particularly special details. We also use smoother camera pans, giving an even more professional look and feel, and shoot in landscape for a wider view.
SHOWCASE THE FINER DETAILS WITH MATTERPORT
The Matterport platform is the perfect choice for properties (or indeed vendors) that require something a little bit different. Using a Matterport scanner, we take a walk-through of the entire property using cutting-edge scanning technology to provide a highly detailed 3D representation. This is both online and interactive, giving potential buyers the ability to 'walk' themselves through a property at their leisure, without actually being there. It also offers a real sense of the home and its scale. Our Matterport service is undertaken by a number of our skilled operatives across the country, with the footage offering a truly immersive and unique look at a property, which is easy to share with both vendor and buyer. It's also a great alternative to viewings, particularly during this time of restricted travel, and especially for international clients in different times zones, for example, who are able to take an interactive virtual tour of the space in their own time.
GIVE YOUR VIDEOS LIFT WITH DRONE FOOTAGE
For properties with wow-factor, drone video footage is a great way to show off amazing features. Whether it's a coastal setting, a magnificent country home with lots of land or those properties with specific facilities, like stables or farms which are best seen from above, drone videography can highlight scale. It also helps to give a fresh perspective: it's not always easy to judge terrain or the scope of land and outbuildings from a simple floor plan. All of our drone operators are trained and certified, and we are able to request permissions from the Civil Aviation Authority (CAA) to ensure all flights are fully insured, compliant and most importantly, safe.
TAKE IT TO THE NEXT LEVEL… WITH BESPOKE VIDEOGRAPHY
For bespoke videography, the sky is quite literally the limit. We can incorporate drone footage to showcase vast country estates or landscaped gardens, or include graphic overlays to highlight nearby landmarks and attractions. It's not just limited to the property, either: we can include location shots to give context to the surrounding area, for example where there are spectacular sunrises, beaches, mountains or areas of natural beauty. We can include voiceovers, clever editing tools and music to make each bespoke video project shine.
To register your interest in videography, please contact us.
As property professionals, we have the privilege of visiting beautiful homes in our work. Many of which, the interiors showcase iconic furniture, and design classic seating. With such a trend for interior styling in the home; many timeless designs are being used in the modern, everyday setting.
Do you know your Eames' from your Wegner's or indeed the history behind such design classics associated with them?
READ MORE >
Phil Stones is Fourwalls' Regional Property Manager for the north of England and has been with Fourwalls since 2019. We've asked Phil to talk us through how he makes the most of every photography appointment, from setting the scene to changing up the angles. This is the first blog in our new 'Ask the Expert' series, where we showcase property industry knowledge, expert advice and insider tips from our team.
READ MORE >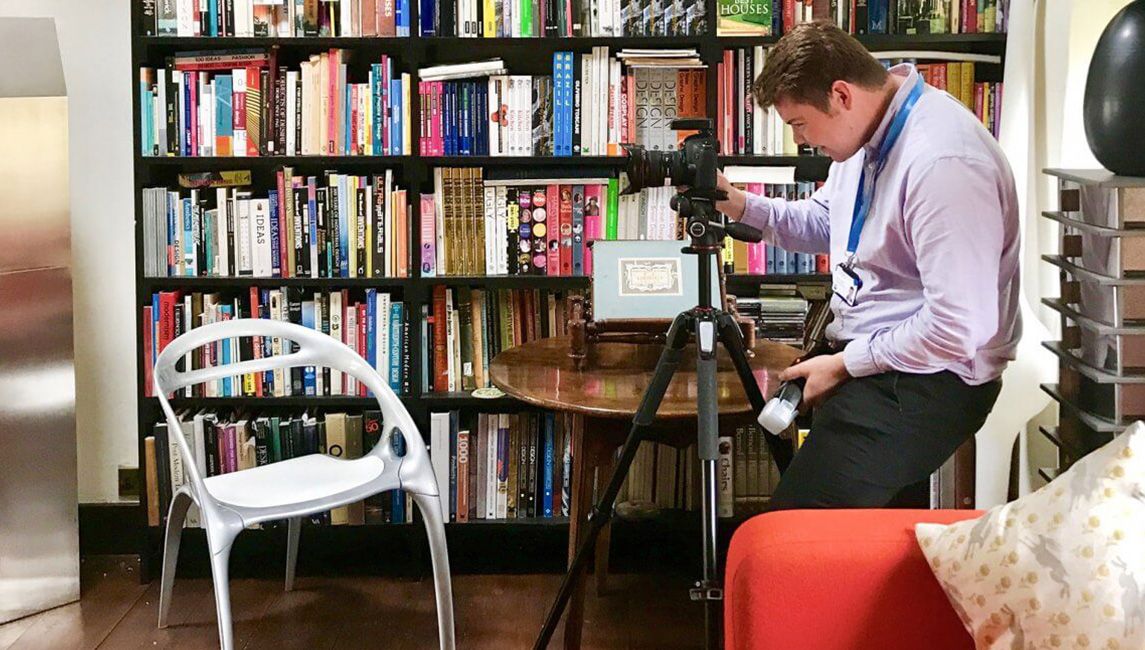 Here at Fourwalls, we like to support our staff in many ways, such as with flexible working or training opportunities. We have a network of freelance operators who work remotely and liaise with us in order to form a flawless working relationship, with seamless interaction between the team which allows us to provide the best service possible, using the best people. With four million people now working solely from home in the UK, is this the new modern way of working?
READ MORE >